How Did Witchcraft Start?
What are the origins of Witchcraft?

Who were the first Witches?

Just how

did

Witchcraft start?


Introducing
How Did

Witchcraft Start

!

CyberWitchcraft

has put together a set of audio files based on the

Witchcraft 101

classes we teach.

For years, we have taught students who were curious about Witchcraft. We have given them information they can use, and taught them how Witchcraft can help them in their everyday lives.

Normally the classes last a full

13 weeks

, but we've condensed these lessons down into just the information you can really use.


In

How Did Witchcraft Start?

, you will learn:


Who the first Witches were.
How they began what became Witchcraft.
Why Witchcraft started.
Much much more...
How Did Witchcraft Start?
is an audio file in MP3 format so that you can listen to it on your computer using your favorite music player, or download it to your portable MP3 player and listen to it anywhere!
If you're serious about learning Witchcraft, this is a class you can't afford to miss. Even if you're just curious, you will find more information here than almost any other source.
Some have been known to charge
$50 per class
for this type of training and information, and their students thought it was a great deal!
We could easily charge more than that for this class, but we know that money is tight. It's hard enough making ends meet, especially now. Who has an extra $50-$70 to spend?
For A Limited Time; we are introducing this class on
Witchcraft

for only
$19.95
That's right, for just $19.95 you can get information that until now, was only offered for much more money, or from a teacher in a Coven setting.



Not only do you get the audio file, but as a bonus you also get
Five historical books at

no extra cost

!




Along with your

How Did Witchcraft Start?

audio,

you also get:
A Confirmation And History Of Witchcraft

- This 37 page book was written in 1648, and is an account by John Stearne, of the Witch trials of Essex England.

History of Wicca In England: 1939 to Present Day

- By Julia Phillips. This booklet is adapted from a speech given to the Australian Wiccan Conference in Canberra, Australia.

The Discovery Of Witchcraft

- Published in 1584 by Reginald Scot, this copy of the original book contains sections that are missing from the modern editions. 227 pages.

The Discovery of Witches

- Written in 1647 by Witch-Finder General Matthew Hopkins. These are the actual questions and answers given in the Witch trials of Essex England.

Witchcraft Of New England

- By Allen Putnam, published in 1881. One possible explanation for the Salem Witch Trials is given in this 486 page volume.
All but one of these books are centuries old, and tell you exactly what happened during

The Burning Times

, in

their own words

. The originals of these books can't be found anywhere for

any

price, and they are your

free bonus

, just for purchasing

How Did Witchcraft Start?


These

5 books

are a

must have

for anyone wanting to learn about Witchcraft!

You get the How Did Witchcraft Start? audio file plus the 5 books, all for just $19.95!


This is an introductory price, and will not last!



Try before you buy!

Listen to a part of the lesson...

How Did Witchcraft Start will replace this text.


A note about charging for Witchcraft:



There are many who believe that knowledge of Witchcraft should be freely given, and never charged for.

I agree with this philosophy.

I am not charging for the information. The price you see is for the time and effort I have put into creating this class.

I also know that knowledge gained freely is less valued than if you have to earn it. I could just give this information away, in fact I give a majority of the information on this site free of charge in over 100 separate web pages.

This information takes you a step beyond the website, and explains in more detail than I can go into in a 2000 word essay. I want to give you valuable information, but it's only valuable if you can use it. So I give you the following guarantee...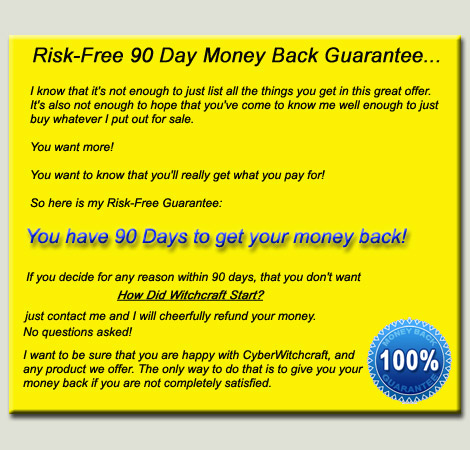 This is an incredible opportunity that you can't afford to pass up! I don't know how long I can keep the price this low.


---

Get your Witchcraft audio file plus

all 5 books

for just $19.95 now by clicking on the Add to Cart button below!