What Is Witchcraft?
Have you ever wondered what a Witch is, and what we do?
Have you ever been curious if Witchcraft could help make your life better?
Have you ever wondered if

you

could be a Witch?

Witchcraft is something anyone has the ability for, it's all a matter of knowledge and training.

Have you ever thought of someone, and had them call out of the blue, or run into them on the street?

Have you ever had a feeling that something had happened to someone you know, and later found out you were right?

These are abilities everyone has, if only you could find a way to do it on command...

Introducing
What Is Witchcraft

?

CyberWitchcraft

has put together a set of audio files based on the

Witchcraft 101

classes we teach.

A

Witchcraft 101

class is a very broad overview of Witchcraft. It is meant to teach you what Witchcraft is, not how to be a Witch.


In

What Is Witchcraft?

, you will learn:


What

Witchcraft

is, and just as important, what it isn't.
Why there's nothing to fear from

Witchcraft

and

Witches

.

Witchcraft

is something anyone can do.
How you can have the all things you want in your life.
The two things you must have, to be a successful

Witch

.
Much much more...
What Is Witchcraft?
is an audio file in MP3 format so that you can listen to it on your computer using your favorite music player, or download it to your portable MP3 player and listen to it anywhere!
If you're serious about learning what Witchcraft is, this is a class you can't afford to miss. Even if you're just curious, you will find more information here than almost any other source.
Some have been known to charge
$50 per class
for this type of training and information, and their students thought it was a great deal!
We could easily charge more than that for this class, but we know that money is tight. It's hard enough making ends meet, especially now. Who has an extra $50-$70 to spend?
For A Limited Time; we are introducing this class on
What Is Witchcraft?

for only
$19.95
That's right, for just $19.95 you can get information that until now, was only offered for much more money, or from a teacher in a Coven setting.
Not only do you get the audio file, but as a bonus you also get
Five books to start your education in Witchcraft at
no extra cost
!
Along with your
What Is Witchcraft?
audio,
you also get:
My Sacred Place

- Over 60 pages of useful information about ways to make your home a sacred retreat. A place where you can get away from the troubles of the everyday world, which is extremely important for doing magick.

$17.00

value.

Exploring Wicca

- This 220 page book is a first step for the absolute beginner. In it, you learn about the history of Witchcraft, and where it came from, as well as exercises you can do to begin your journey into Witchcraft.

$24.95

value.

A Witch Like Me

- This book has over 200 pages of information for the person wanting to learn about being a Witch. Witchcraft is a personal journey, and this book shows you how to start your journey.

$24.95

value.

Witchcraft Today

- Written by Gerald Gardner, known as the Father of Modern Witchcraft. This is the book that started it all. Every Witch knows of Gerald Gardner, and this book, the first ever published on modern Witchcraft.

$29.95

value.

Grimoire Of Eclectic Magick

- This book for beginners, contains valuable information about what Witchcraft is, and how to do it. Its easy to understand information leads you through the basics of Witchcraft.

$24.95

value.
These books if purchased separately, would cost you over $120.00, but they are yours as a bonus at

no extra charge!





Try before you buy!

Listen to a part of the lesson...

This text will be replaced by the flash music player.


A note about charging for Witchcraft:



There are many who believe that knowledge of Witchcraft should be freely given, and never charged for. I agree with this philosophy.

I am not charging for the information. The price you see is for the time and effort I have put into creating this class.

I also know that knowledge gained freely is less valued than if you have to earn it. I could just give this information away, in fact I give a majority of the information on this site free of charge in over 100 separate web pages.

This information takes you a step beyond the website, and explains in more detail than I can go into in a 2000 word essay. I want to give you valuable information, but it's only valuable if you can use it. So I give you the following guarantee...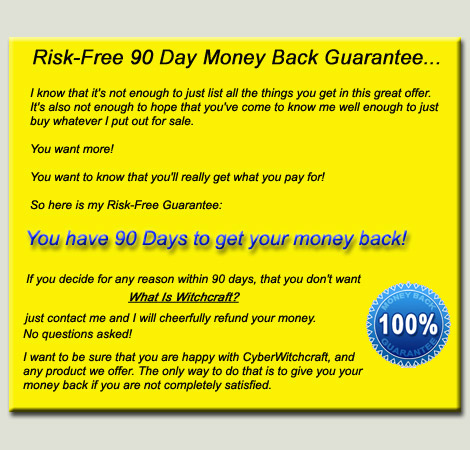 ---

Get your

What Is Witchcraft?

audio file plus the 5 extra bonus books for just $19.95 now by clicking on the Add to Cart button below!